Hardwood Elite's All-Star Girls Camp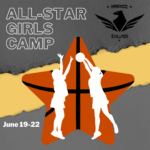 Hardwood Elite's All-Star Girls Camp
$250.00
$250.00
Description
Event Details
Description
This camp is for young ladies interested in playing high level basketball!  This camp is dedicated teaching the foundation for elite ball handling, shooting, defense, teamwork, footwork and all other aspects of the game. 
Date: June 19 – June 22
Time: 1pm-4pm
Age: 8-14
Location: Club Greenwood
Price: $250
Event Details
Start date: June 19, 2023
End date: June 22, 2023
Start time: 01:00 p.m.
End time: 04:00 p.m.