COMPARE OUR MEMBERSHIPS
Silver
monthly
$9.99
A Good Start
Receive daily warm ups, elite ball-handling, NBA Shooting Drills and Defensive Footwork
Subscribe
Gold
monthly
$39.99
Elite Virtual Training
Receive daily warm ups, elite ball-handling, NBA Shooting Drills, Daily Challenges, Defensive Footwork and our most popular "Move of the Days" and NBA Finishing. Over 400 Videos!
Subscribe
Platinum

monthly
$89.00
Elite Virtual Training, A Shooting Coach & JUMP Program
Get the virtual training included in the Gold Membership, Your own Personal Shooting Coach with access to ProShotX, and FREE access to JUMP Program!
Subscribe
What's inside the Platinum Virtual Membership?
400+ Elite Basketball Training Videos!
NBA Shooting Drills, Elite Ankle-Breaking Moves to Get You Past A Defender, In-Game Finishes at the Rim, Defensive Footwork Workouts, Elite 1 and 2 Ball Handling Drills AND Elite Warm-Ups...
All of these moves are broken down step-by-step and can be rewound as many times as you need!
Access to Hardwood's 12-Week JUMP Program!
Increase your vertical 3-7 inches in 12 weeks! The beauty of this program is that you can repeat it to continue to increase your vertical leap.
Watch the video to learn why Hardwood JUMP program is the best there is for youth athletes.
Monthly Access To Your Own Personal Shooting Coach
That's right, you read right. This is where the value of this program truly comes in...
You'll truly learn where you are going wrong, reprogram your shot, learn how to shoot like a world-class professional basketball player AND make more shots!
With the Platinum Membership, your child gets it all - everything to make them the confident player that growing numbers of college coaches recruit... as a parent you are going to experience the joy of seeing your child hit more game winning shots and walk with more confidence.
...for $2.99/day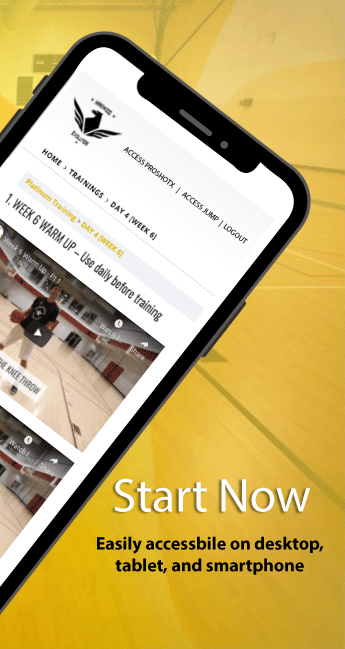 Hardwood's Platinum Membership is loved and valued by parents all over the map.
Here's what some are saying...


Ready to invest just $2.99/day into your child's love for basketball, their own personal shooting coach, an increased vertical JUMP, hours of activity, fun AND the ability to feel the joy of seeing them hit game winning shots?


WHO WILL BE GUIDING YOU?
Hardwood Virtual Training is founded by West Michigan basketball standout Derek Griffin. Derek not only has a background in teaching, coaching and educating in the game of basketball. After graduating from college he was hired by the Denver Nuggets as a director to develop and execute a youth basketball program in the state of Colorado. While directing this program he was playing 3×3 for USA Basketball and in the FIBA World Tour.
He won 2 National Championships and was named the MVP of the 2016 championship. While working in the NBA and playing for the National Team he developed a program of development for all types of players.
He then took this philosophy and created a game changing program that will alter the culture in Colorado youth basketball.